Originally, this feature was called Entry Bar. However, over time, with the number of "oohs" and "aahs" it has received, I've call it the envy bar.
A fun keyboard shortcut that can make your fellow employees a tad jelly if they don't have it.
Managing Interruptions
With the rise of remote work, being connected online is the single way we stay in touch, this means that interruptions are a daily part of our workflow.
For example, you're heads-down fixing a presentation, and a co-worker pings you asking for feedback on a document, and sends you a link to it - what do you do?

If you didn't have Amna, you'd likely click on the link, glance at it, run some fast thoughts it in your head, keep the tab open, and and tell her you'll add comments later.
Two reasons why this workflow is painful:
Disrupted from your current flow
Added one more item to the "mental" to-do list
Your brain has to work harder to readjust, and you feel a tad more overwhelmed.
Entry Bar to the Rescue
Amna has a convenient keyboard shortcut accessible as Cmd/Ctrl+E that pulls up an entry bar as you work. It's an inline way to defer action items for later.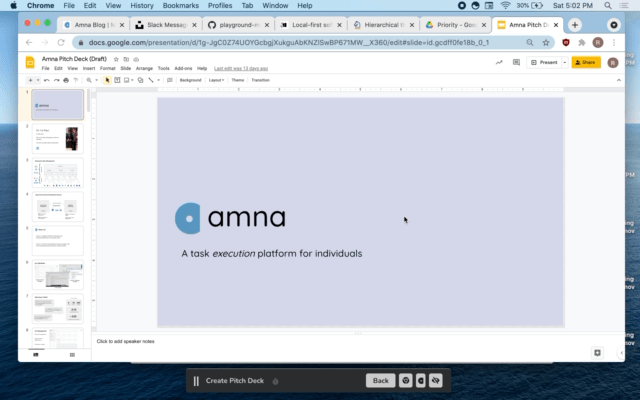 I'm confident you'll get a task done. Just not now 😇 Use the Ctrl+D shortcut to set an item to have it appear on the calendar as well.
Entry bar works nicely with links. Perfect for saving things for later that are important.
Adjusting Headspaces
We also understand that life moves on even when you're not at work. You can change the headspace for a task using the up and down arrow keys.
Entry bar is perfect to capture random ideas, following up on things, and setting reminders. As with all tasks in Amna, you can instantly jumpstart the task.